Welcome to the Gluten Free Lottery!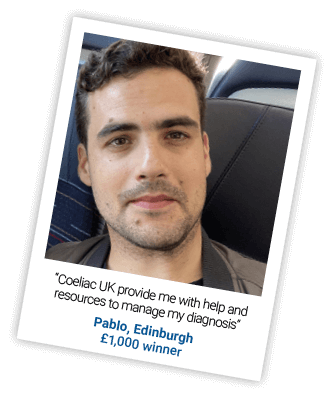 Help support those who need to live gluten free and you could win £10,000!
Coeliac UK is the charity for people who need to live without gluten. For over 50 years we've been helping people with coeliac disease and other gluten related conditions live happier, healthier lives. We do this by striving for better gluten free food in more places, providing independent, trustworthy advice and support to our community, and funding crucial research to not only manage the impacts of gluten, but also find the answers to coeliac disease.
"All the information from Coeliac UK has helped us answer our questions and the app food checks and eating out certifications are particularly helpful." Pablo, Coeliac and Weekly Lottery winner
Everything we do is thanks to contributions from people like you. So please, play our Gluten Free Lottery and help to ensure that one day, no one's life will be limited by gluten.
Entering is easy and every week you will have the chance of winning up to £10,000 or one of our other great prizes from £5 to £1,000.
It costs just £1 a week to enter, or £2 to double your chances of winning. Simply click the Enter now button to join by Direct Debit to ensure you never miss a draw. We will send you your lucky 6 digit number and there is no need to claim as we will write to you if you win and pay any winnings directly to your bank account. If you have any questions please call the Gluten Free Lottery Hotline on 01628 201 287.
Thank you for your support and Good Luck!
ENTER NOW